Contact & Biographical Info
Bernhardt "Beau" Lafald Pederson
2077 Mahre Drive
Park City, Utah 84098
435-645-8841
Position: Attack
Dominant hand: Right
Height: 6'2"
Weight: 175 lbs
DOB: 11-28-1999
STANDOUTS AND NOTES FROM ADRENALINE'S BLACK CARD SHOWCASE AND PLATINUM CUP
by Ty Xanders - 6.15.15
Beau Pederson '18, A, West Coast Starz / Park City (Ut.)
The Utah native was extremely impressive, going to the rack with fearlessness and leading the Starz all weekend long. I love how well he uses his big body, backing down his man and then quickly making moves around the cage

before burying his shots. Saw him score a few nice dive goals as well as some rapid stepdown shots when the opportunity came up, playing hard in the riding game as well. Expect him to commit to a Top 20 program before the end of the summer.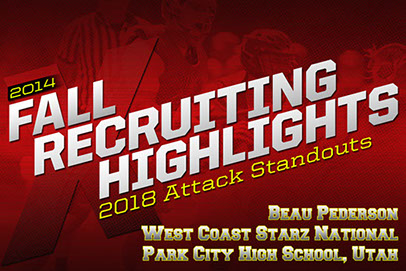 Club / Off Season Lacrosse
Upcoming Events
Past Events
U15 National Championship

: 7/23-7/26/15, River City Sportsplex, Richmond, VA

Maverik Showtime Lacrosse: July 6-9. 2015, Western Connecticut State University, Danbury, CT
Adrenaline Platinum Cup (West Coast Starz): June 13-14, 2015, Plymouth-Whitemarsh High School, Plymouth Meeting, PA
Adrenaline Black Card

(Team Paragon #104)

: June 12, 2015, Plymouth-Whitemarsh High School, Plymouth Meeting, PA

UNC Freshman & Sophomore Camp; January 9-11, 2015, UNC, Chapel Hill, NC
Adrenaline LAX ATS Las Vegas (212 Regional Team #19): Dec 6-7, 2013, Heritage Park, Henderson, NV
Philly Freshman Showcase (Team 12 - #5): November 22, United Sports Training Center, Downington, PA
Adrenaline Fall Invitational

(West Coast Starz - National Team): November 8-9, 2014, Plymouth Meeting, PA
References
Mike Acee – Founder and Director of 212 Lacrosse
435-640-9626 (mobile/iMessage)
Nick Gradinger - High School Varsity Coach, Park City High School
Ngradinger@athleticrepublic.com
858-945-7517
Jono Zissi - West Coast Starz/RC Starz Club Coach
Torrey Pines High School Head Coach
858-254-7278
Jamie Baker - West Coast Starz 2018 Coach
Fred Acee - Former Air Force Academy Head Coach / current volunteer coach, Team USA assistant ('94), Lacrosse Hall of Fame (Cortland, Long Island and Junior College)
Parents
Chip Pederson
Kathy Pederson
435-645-8841
High School Lacrosse
Park City High School (Class of 2018)
Head Coach: Andy Langendorf
Freshman Year (2015 season)
2nd Team All-State attack as a freshman
Park City High School Rookie of the Year
102 points on 42g and 60a (4.4 ppg)
Park City Miners (21-2) were the #2 team in the state of Utah
Club Teams
212 Select National Team
West Coast Starz 2018 National Team
Brady's Bunch 2018 National Team
Activities / Other Sports
Top Scorer - West Coast Starz 2018 National Lacrosse Team
3 Sport Athlete - High School Football and Varsity Hockey
Freshman Football Offensive MVP and team co-captain
Starter on Varsity Hockey Team
Starter on Club U16 AA Hockey Team
2018 Leading Utah Point Scorer 2013/14 Lacrosse Season
Academics
1750 Kearns Blvd
Park City, UT 84060
435-645-5650
3.8 GPA
ACT score of 27 as a freshman
National Junior Honors Society
Honor Roll Every Semester - No Misses
PSAT available junior year
Transcript available upon request
Copyright © 2015 Beau Pederson. All rights reserved.