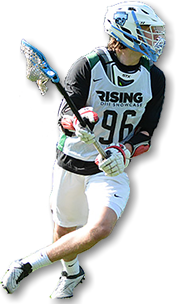 Rising DIII Fall Showcase: Standouts
By 3d Rising Staff on Wed, 10/19/2016
Blake Phillips, Midfield, Lincoln (Ore.)/3d Oregon, 2018
Phillips showed himself to be a very good athlete and that he has a good lacrosse IQ in different spots on the field.

He sees the field well, can beat short-stick defenders off the dodge and is big enough to put his shoulder down and create separation. On the defensive end he showed his athleticism with good play on the ball and up the field. More of a midfielder at the college level, his ability to dodge hard either hand will make him an asset if he can keep progressing his skill.
Club / Off-Season Lacrosse
Upcoming Events
Past Events
3d Rising DIII Fall Showcase: Oct 16, 2016, Noble and Greenough School, Dedham, MA

3d Rising Standout

The Riptide (3d Oregon 2018): Jul 8-10, 2016, Del Mar Polo Fields, Del Mar, CA

All-Star Team

3d Lacrosse National Team Camp: June 21 - 23, 2016, The Hill School, Pottstown, PA

FLG in 3d Summer Shootout (3d Oregon): July 17 - 19, 2015, Maryland Soccerplex, Boyds, MD
Riptide at Oceanside: June 26-28, 2015, SoCal Sports Complex, Oceanside, CA
California Gold

®

: June 24-25, 2015, SoCal Sports Complex, Oceanside, CA
Denver Shootout (3d Oregon): June 12 - 14, 2015, Dick's Sporting Goods Park, Commerce City, CO
FLG in 3d Fall Shootout: November 15-16, Mount Saint Mary's University, Emmitsburg, MD
Ultimate Performance Lacrosse Fall Shootout (3d Select Pacific 2018 Team): November 9, Central Sod Farms, Centreville, MD
Fall Champions League (3d Select Pacific 2018 Team): November 8, William Penn Charter School, Philadelphia, PA
Denver Shootout (3d Select OR 2018): June, 2014, Dick's Sporting Goods Park, Denver, CO

Tournament Champions

Sand Storm Lacrosse Festival (Oregon Pride): Jan 2014, Indio, CA

Tournament Champions
Academics
Lincoln High School
1600 SW Salmon St.
Portland, OR 97205
(503) 916-5200
Year of Graduation: 2018
Lincoln Scholar Athlete Award 2015-2016 and 2014-2015
Bilingual (Spanish Immersion K-12)
Transcript available upon request.
PSAT will be available junior year.
Contact & Biographical Info
2738 SW Bertha Blvd
Portland, OR 97239
503-501-7307
Position: Middie
Dominant Hand: Right
Height: 6'2"
Weight: 175 lbs
DOB: 12-02-99
Teams
3d National 2018
3d Oregon Select 2018
3d Pacific 2018
Lincoln High School varsity lacrosse

2nd Team All-Conference 2016

Lincoln High School varsity basketball
References
Bill Gleason, Director, Oregon, 3d Lacrosse
315-447-5699 (cell/iMessage)
Pat Rogers, Coach, 3d Oregon
503-888-4881
Aaron Prosser, Coach, 3d Oregon
503-329-5344
Will Harris - High school varsity head coach
503-459-7409 -- cell
Parents
503-880-6024
Copyright © 2016 Blake Phillips. All rights reserved.