2018 STANDOUTS FROM NXT PHILLY FRESHMAN SHOWCASE
by Casey Vock, editor 3d Rising
Emmett Jones, Defense, Lakeridge (Ore.)/3d Oregon, 2018
Jones has looked better each weekend this fall, and from where I stood, he was one of the best overall defenders competing Saturday. He's a good-sized specimen who's playing club ball for Upstate New York native/West Genesee alum Bill Gleason, who heads up 3d Oregon. Matched

against one of the few committed 2018 attackman, Jones took the ball away from his man with a hard slap check as the player brought his stick across his body. Jones was in position to get the groundball, but when the same player came right back at him, Jones again took it away, essentially knocking the stick out of his hands and getting the ball himself. He's very smooth snagging groundballs, showing an excellent stick and using it well as he grabbed the ball and strode up the field. He's athletic and lean, but shows strength too. He's got range that, when combined with his excellent stick work, makes him dangerous guarding the ball and with the ball in his stick. His footwork is solid, and I didn't see him once get beat. I'm not sure there was a defender who looked more natural coming up the field and carrying the ball than Jones. He is as good if not better than you're hearing.
10 FRESHMEN WHO STOOD OUT AT BIG 4 CHAMPIONS LEAGUE
Emmett Jones, D, 3d Pacific / Lakeridge (Ore.) – As steady as they come, Jones is a monster

who has an awesome lefty stick that often puts the ball on the ground, a quality paired with superb footwork and position play. In addition, he's great off the ground and on the clear, proving to be an absolute force for the 3d squad. I would bet that some of the nation's best colleges will try and gobble him up soon.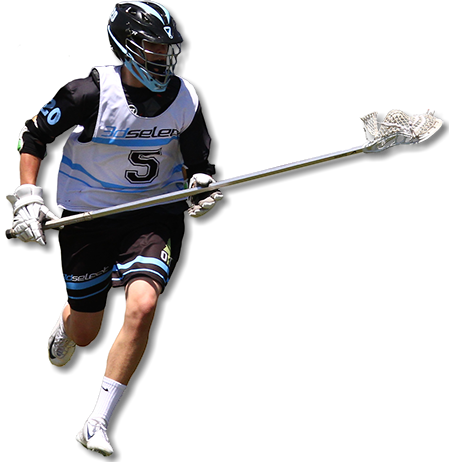 Contact & Biographical Information
11519 SW Breyman Ave
Portland, Or 97219
503-201-0368
Position: Defender
Dominant Hand: Left
Height: 6'1"
Weight: 180 lbs
DOB: 01/07/2000
Lacrosse Honors
Denver Shootout 2014 All-Star
Nike Blue Chip Camp Rising Freshman (2014)
3d 2018 National Team (2014)
West Coast Starz National Team (2012-13)
Brady's Bunch National Team (2012-13)
References
Bill Gleason, Director, Oregon, 3d Lacrosse
315-447-5699 (cell/iMessage)
Ryan Danehy, National Director of Training and Methodology, 3d Lacrosse
978-697-2995 (cell/iMessage)
Pat Rogers, Coach, 3d Oregon
503-888-4881
Aaron Prosser, Coach, 3d Oregon
503-329-5344
Dennis Sullivan, Head Coach, Oregon Pride and Oregon Episcopal School Varsity Head Coach
503-416-9253 (office)
503-577-2861 (cell/iMessage)
Parents
503-201-0368
Academics
1235 Overlook Dr
Lake Oswego, OR 97034
(503) 534-2319
Year of Graduation: 2018
Transcript available upon request.
PSAT will be available junior year.
Club / Off-Season Lacrosse
Events
Maverik Showtime Lacrosse: July 6-9. 2015, Western Connecticut State University, Danbury, CT
3d Oceanside Hustle: December 6-7, SoCal Sports Complex, Oceanside, CA
Philly Freshman Showcase (Team 2 -Red #19): November 22, Episcopal Academy, Newtown Square, PA
FLG in 3d Fall Shootout: November 15-16, Mount Saint Mary's University, Emmitsburg, MD
Ultimate Performance Lacrosse Fall Shootout (3d Select Pacific 2018 Team): November 9, Central Sod Farms, Centreville, MD
Fall Champions League (3d Select Pacific 2018 Team): November 8, William Penn Charter School, Philadelphia, PA
Jake Reed NIKE Blue Chip Rising Freshman Camp: June 2014, UMBC, Catonsville, MD
Champions League (3d National 2018): June 21-22, William Penn Charter School, Philadelphia, PA
Denver S

hootout (3d Select OR 2018): June, 2014,Dick's Sporting Goods Park, Denver, CO

All Star Team
Adrenaline Challenge Elite High School (Junior Black Rhino): Jan 2014, Del Mar, CA
Adrenaline LAX ATS Las Vegas (Junior Black Rhino): Dec 2013, Heritage Park, Henderson, NV
Ultimate Performance Lacrosse Fall Shoot Out (Junior Black Rhino): Nov 2013, Anne Arundel Community College, Arnold, MD
Warrior Vail Lacrosse Tournament (Brady's Bunch): June 17-20, 2013, Vail, CO
Denver Shootout (Brady's Bunch): June 14-16, 2013, Dick's Sporting Goods Park, Denver, CO
Copyright © 2015 Emmett Jones. All rights reserved.