1870 Egan Way
Lake Oswego, OR 97034
503-528-4208
Position: Midfield
Dominant hand: Right
Height: 6'2"
Weight: 185 lbs
DOB: 09-05-2001
STANDOUTS FROM THE INAUGURAL MAVERIK SHOWTIME FOR RISING FRESHMEN
By Ty Xanders (07/02/2016)
Marshall McGuire, M, Lake Oswego (Ore.)
McGuire snagged Midfield MVP honors to represent the West Coast, building more and more confidence and consistency as the week went on.
There are aspects of his game like his shot mechanics that are definitely raw, but his 6'2, 175-pound frame is impressive and his athleticism is intriguing. The Oregon product kept chugging along through the week and when everybody else was tired, McGuire was still posting points during the final two sessions.
Maverik Showtime 2020: Standouts, Photos, More
By Casey Vock on Tue, 07/05/2016
Marshall McGuire, Midfield, Lake Oswego (Ore.)/Rhino Lacrosse
McGuire stood out immediately for his big, tall frame with long legs and apparent athleticism. The 6-foot-2, 175 pounder walked right over to the sideline wearing some of the shortest shorts at the camp and stared at the college coaches sizing him up from just a few away with sort of bizarre and sassy attitude that was a prelude of what was to come – a breakout performance. Running up the field in his first game, it was clear he was one of the more developed midfielders and we watched him go from a different maker in the middle of the field in the first game, to a downright dominant athletic presence from back to front.

This right-handed horse showed incredible stamina in blitzing up and down the field all day each day of the camp and still looking limber and nimble at the end, still hammering shots on the run with increasing accuracy.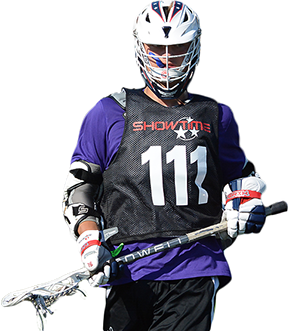 Able to sweep and dodge hard down hill using his long arms and strong frame to his advantage, he showed more powerful and assertive takes to the cage. Still raw with the stick, McGuire was still able to put together a few excellent dodges from the midfield that would be impressive for a midfielder hailing from anywhere, let alone Oregon. That's how he was starting to put it all together in the end of the camp. He scored three or four times in the second to last game, which was when we gave the first vote for him to be the event's most outstanding midfielder (he got it). McGuire scored on a roll back, going to his left to hammer the ball on the run. He took the ball away on the ride and barreled down the gut to score overhand. He scored on an acrobatic spinning jump shot, stinging the top shelf. And he looked like he barely broke a sweat. His height and his legs made him an instant threat in transition and he showed a willingness to move the ball, and he put mustard on it. This exciting prospect also shot somewhere around 95 miles an hour in the shoot around during one of the breaks. He screams out multi-sport athlete and came to the came by way of the guy Ryan Powell.
Club / Off-Season Lacrosse
Club Teams
West Coast Starz 2020
Rhino Lacrosse / Rhino Silver
Events
Oregon Lacrosse Classic (Rhino Silver): Jul 21-24, 2016, Bend, OR
Adrenaline Shootout (Rhino Silver): Jul 16-17, 2016, El Pomar Youth Sports Park, Colorado Springs, CO
Maverik Showtime: June 27-29, 2016, Western Connecticut State University, Danbury, CT

All Star Team and Tournament Midfielder MVP

Invasion of Valhalla (Rhino Silver): Jun 24-26, 2016, Jason Lee Field Complex, Vancouver, WA
Vail Lacrosse Tournament: Jun 20-22, 2016, Vail, CO
Battle of Lake Oswego: May 28-30, 2016, Lake Oswego, OR

All Star Team and Tournament MVP

Battle of Lake Oswego: May 16-18, 2015, Lake Oswego, OR

All Star Team and Tournament MVP
Academics & Other Activities
2501 Country Club Rd.
Lake Oswego, OR 97034
503-534-2313
Academics
Year of graduation: 2020
Transcript is available upon request.
PSAT scores will be available junior year.
Other Activities
Football
Basketball
Lacrosse Honors
Maverik Showtime Midfielder MVP (2016)
Battle of Lake Oswego All-Star Team and All-Star Game MVP (2015 and 2016)
Adrenaline Shootout All-Star Team (2015)
References
Jono Zissi - West Coast Starz/RC Starz Club Coach
Torrey Pines High School Head Coach
858-254-7278
Ryan Powell - Founder, Rhino Lacrosse
315-693-4449
John Schlendorf - Rhino Select Coach
503-539-8700
Scott DeMonte - Founder, Peak Path College Guidance
scott@peakpathcollegeguidance.com
Parents
Roger McGuire
503-528-4208
Copyright © 2016 Marshall McGuire. All rights reserved.