Sam Handley, Attack, Jesuit (Ore.)/3d Oregon, 2018 - Penn
Handley has developed into one of the premiere players from the West Coast, projecting as possibly one of the very best in the country by the time he graduates. The tall and strong righty attackman shined as one of the most dominant players at the event, not just in the 2018 class. Playing on the left side, he made it clear he can use his off hand nearly as well as his strong hand. He might have come close to the 20-point mark in the play-in games alone. What jumps out is Handley's ability to handle the ball while using his big, 6-foot-3 frame to back in and peer into the middle of the field.

His hands are quick and he carries the stick like it's small. He can very quickly pull up to pass, and it's easy for him to get a defender bodied up, and then slip off of him or roll back or inside. He got a few defensemen to become frustrated and start trying to take the ball away, and he just easily made one move – a hitch or a face-dodge inside – to beat them. He is a nightmare matchup given the size and ability to get his hands free and given his second and third moves to get himself to the interior or just above GLE enough to get a shot. He has a powerful, big windup and can put the ball in the corners. He plays smart with the ball, seemingly well aware of when he's got a chance or not.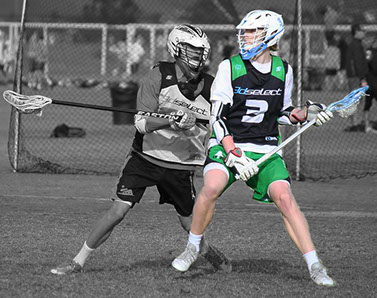 We saw all of this out of him at the Oceanside event, where we watched him put up at least fives goals and an assist in one game, and then score another three or four in another. On one play, Handley carried at length – to the point his coaches started to offer up some words – but Handley really had no one open; he kept the ball despite being doubled and swarmed by more players and then pumped a pass inside just at the right moment for a one-timer. That same game, he carried topside, backed his defender down from the island spot, turned, hitched to the middle to get space and then threw the goalie off with a 3/4-style release that hit the lower left. He had other impressive individual plays in that game that showed his ability to start and finish plays at a high level, making a strong dodge, then a good second move to get to a high-percentage shot or get his hands free to pass, and then making seemingly putting the ball right in a corner each time or whipping a pass right to a teammate's stick. Handley's performance at Oceanside speaks to the huge spring he should have.