Contact & Biographical Info
14110 SW Mckinley Drive
Sherwood, OR 97140
503-550-1454
Position: Defense
Dominant Hand: Right
Height: 6'4"
Weight: 225 lbs
DOB: 08-29-1999
Rising High School Notebook: Oregon Trip Update
by Casey Vock (3/31/16)
Zane Sands, Defense, Sherwood, Soph.
Sands, a player we've highlighted in the past, looked as impressive as we'd hoped after getting a glimpse of him before. The monster, 6-foot-4, 220-pound athlete of a defender has range, but can fly to the ball, moves his stick extremely fast and has high potential as a young defender who can get nasty and play at full speed for 60 minutes. He was matched against a very talented attackman in Nate
Johnnie and showed the ability to change directions with his feet and hips to stay with the quick attackman and defend some really good looking dodges and shots. The matchup became a treat as the two were terrific. But make no mistake, in other areas of the field, Sands stood out. The righty has full field speed, he's able to scrap in the middle of the field for the ball and he was an emotional spark for his team as he was tested repeatedly but responded with some excellent one-on-one defense.
Oceanside Hustle: Fall 2015 Standouts
by Casey Vock (12/26/15)
Zane Sands, Defense, Sherwood (Ore.)/3d Oregon, 2018
Zane shined at the Oceanside Hustle as a hard-nosed, athletic and rugged defender who could wreak havoc on the backend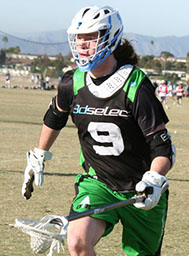 thanks to his superior size and speed. He's well over six feet tall, maybe 6-foot-3 or so, and when he gets into the open field with the ball, his legs get moving and he shows impressive speed. He's just tough and gets involved in the play all the time and can simply out-muscle, out-reach, out-scoop and out-run a lot of his peers in the class. That was what we noted about him at Oceanside, as he created chaos through a double or on the approach to the groundball, oftentimes coming up with it and then clearing out alone. His coaches point out that he is still developing as a one-on-one defender, but he showed all kinds of promise at the SoCal event by making a lot of plays to help his team regain possession. In transition, he was indeed an impressive force with a combination of wheels, a towering presence and a big winding stick. This multi-sport athlete has high-level lacrosse potential just based on size and athleticism alone, but his hard work on seemingly every play pushes his ceiling a bit higher. He also draws high praise from coaches for his character.
Club / Off-Season Lacrosse
Events
FLG in 3d Shootout: Jul 15-17, 2016, Maryland Soccerplex, Boyds, MD
The Riptide: - Jul 8-10, 2016, Del Mar Polo Fields, Del Mar, CA

All Star Team

California Gold® Invitational: Jul 6-7, 2016, 4s Ranch Sports Park, San Diego, CA
Sweetlax Invitational: Jun 25-26, 2016, Pittsford, NY
Sweetlax Summer Showcase: Jun 24, 2016, Calkins Road Middle School, Pittsford, NY
Adrenaline Challenge: Jan 1-3, 2016, Del Mar Polo Fields, Del Mar, CA

All Star Team

& Tourney Champs

Strucktown Showdown (3d Oregon 2018): 12/11-12/13/15, PCC Rock Creek, Portland, OR
Oceanside Hustle Lacrosse Tourney (3d Oregon 2018): 12/5-12/6/15, SoCal Sports Complex, Oceanside, CA
FLG in 3D Fall Shootout (3d Oregon 2018): 11/14-11/15/15, Kirkwood Soccer Complex, New Castle, DE
Adrenaline Seattle (Oregon Pride): 10/31-11/1/15, Starfire Sports Complex, Tukwila, WA
FLG in 3d: 7/17-7/19/15 (3d Oregon 2018), Maryland Soccerplex, Boyds, MD
Riptide at Oceanside: 6/26-6/28/15 (3d Oregon 2018), SoCal Sports Complex, Oceanside, CA

Denver Shootout

(3d Oregon 2018): 6/12-6/14/15, Dick's Sporting Goods Park, Commerce City, CO
3d Oceanside Hustle: December 6-7, SoCal Sports Complex, Oceanside, CA
FLG in 3d Fall Shootout: November 15-16, Mount Saint Mary's University, Emmitsburg, MD
Denver Shootout (3d Select OR 2018): June, 2014, Dick's Sporting Goods Park, Denver, CO Tournament Champions
Sand Storm Lacrosse Festival: Jan 2014, Indio, CA Tournament Champions
High School Lacrosse
Sherwood High School (Class of 2018)
Head Coach: Rob Robinette
Sophomore Year (2016 Season)
Varsity Starting Defender
2nd Team All-Conference Defense
High school team was #1 in conference and 15-7 overall record
#9 ranked LaxPower team in the state of Oregon
Freshman Year (2015 Season)
Varsity Starting Defender ... as a 9th grader (only frosh on varsity)
All-Conference Honorable Mention - only freshman selection in conference
High school team was undefeated in conference and 13-7 overall record
#10 ranked team in the state of Oregon
Academics & Other Activities
16956 SW Meinecke Rd
Sherwood, OR 97140
503-825-5500
Year of Graduation: 2018
Transcript available upon request.
PSAT will be available junior year.
Other Activities
Football

2015 season - One of four sophomores on state semi-final team (12-1 in big school division)
2014 season - Freshman Inside Linebacker, Defensive End, Tight End and Freshman Team Captain

Basketball

PF/C: 1 of 4 freshman on JV team
References
Bill Gleason, Director, Oregon, 3d Lacrosse
315-447-5699 (cell/iMessage)
Rob Robinette, Sherwood High School Varsity Head Coach
971-832-4117
Glen Foster, Sherwood High School Varsity Defensive Coach
Parents
Tera & Shawn Sands
Copyright © 2016 Zane Sands. All rights reserved.